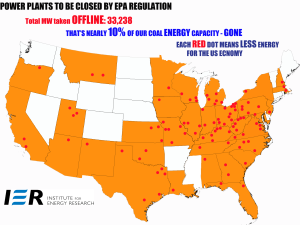 "So if somebody wants to build a coal-fired plant they can. It's just that it will bankrupt them…"
– Barack Obama speaking to San Francisco Chronicle, January 2008
More than 33 gigawatts (GW) of electrical generating capacity are now set to retire because of the Environmental Protection Agency's (EPA) Mercury and Air Toxics Rule (colloquially called Utility MACT)[1] and the Cross State Air Pollution Rule (CSAPR)[2] regulations. Most of these retirements will come from coal-fired power plants, shuttering nearly 10 percent of the U.S.'s coal-fired generating capacity.

This report is an update of a report the Institute for Energy Research (IER) issued in October 2011.[3] In the original report, we calculated that 28 GW of generating capacity would close as a result of EPA's regulations. At the time, we warned that "this number will grow as plant operators continue to release their EPA compliance plans." Unfortunately, this statement has proven to be true. This update, a mere four months later, shows that over 33 GW of electrical generating capacity will close—nearly a 5 GW increase.
Posted by Dottie MacQueen